Christian Doppler Laboratory for
Superimposed Mechanical-Environmental Ageing of Polymeric Hybrid Lami

nates
Visit of Prof. Dauskardt and Mayor Luger
Professor Dauskardt from Stanford University and Klaus Luger, the Mayor of Linz, have visited CDL-AgePol and JKU-IPMT …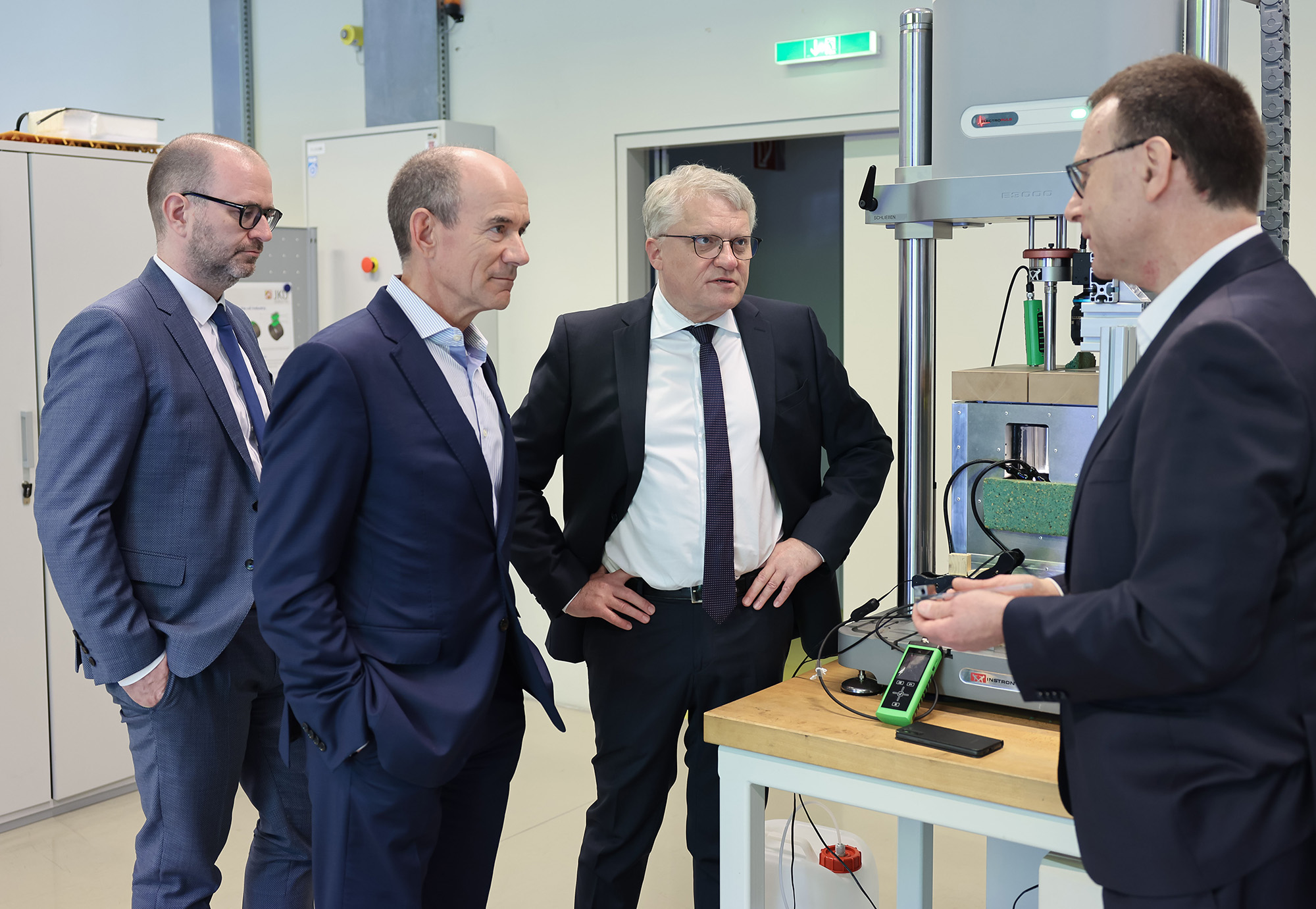 f.l.: City Councilor Dietmar Prammer, Stanford solar researcher Reinhold H. Dauskardt, Mayor Klaus Luger during a visit to the Christian Doppler Laboratory AgePol headed by Gernot M. Wallner (right).
Photo: City of Linz/Dworschak

Re-Thinking Plastic!
Three newly reconceptualized academic degree programs at the Johannes Kepler University Linz are taking education in polymer engineering technologies to a whole new level!

Peer-review paper in Solar Energy Materials and Solar Cells
entitled "Methodology for local ageing and damage development characterization of solar glass/encapsulant interfaces under superimposed fatigue stresses and environmental influences"
Successful 2-year evaluation of CDL-AgePol – Prolongation approved.
The progress and evaluation report covering the 1st research period was submitted in April 2022 to the Christian Doppler Research Association. The virtual 2-year evaluation event took place on 11th of May. The video conference was chaired by Prof. Hans Irschik, Chair of the CD Scientific Board. The external reviewer was an internationally recognized and highly renowned polymer physicist with special expertise on the long-term and ageing behavior of functional laminates such as fuel cell membranes, photovoltaic modules, capacitors or vacuum insulation panels.
First, an overview of the CD Laboratory and its activities was presented by the Head of CDL-AgePol, G.M. Wallner. Then, R. Pugstaller (Post-Doc) and the PhD Researchers (C. Marchfelder, G. Säckl, G. Riedl, M. Tiefenthaler, L. Peham) gave excellent talks on the main progress and scientific achievements of the two Tasks and four Subtasks. After a high-level discussion of the ambitious future research plans, their strong interest in and the specific benefits of the CDL-AgePol collaborative research initiative were clearly expressed by the industrial partners voestalpine Stahl and BOREALIS. Special thanks to the external scientific reviewer, who chaired the evaluation conference with great commitment and who raised many challenging and stimulating questions. The research team of CDL-AgePol is highly grateful for such an extraordinary and memorable experience and for the most valuable impressions.
We are very glad to announce that the senate of the Christian Doppler Research Association has approved the prolongation of our CD lab. A few days ago, we got a rather positive feedback along with an official notification by the CDG. We are delighted and highly motivated to continue our successful research activities in the 2nd funding period of CDL-AgePol!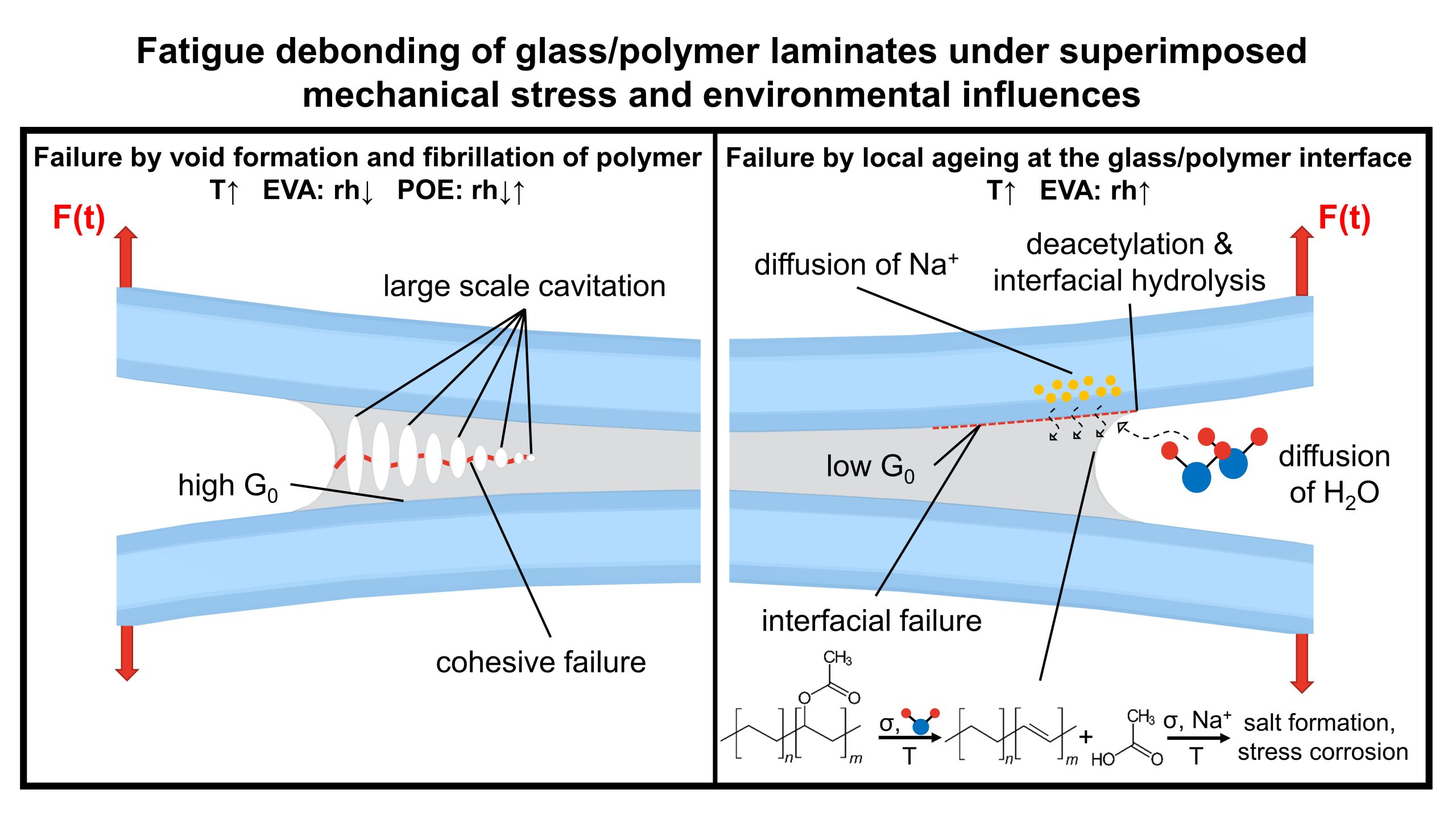 A highlight achieved in the 1st funding period of CDL-AgePol – the proof of local ageing phenomena inducing brittle fatigue delamination close to the interface of silicate glass and a peroxide cross-linked polar ethylene copolymer under hot-humid conditions (right; paper submitted to Solar Energy Materials and Solar Cells; PhD thesis G. Riedl).
There is a new Christian Doppler Laboratory at the JKU. In support of "transformative change", researchers will analyze the durability of plastic laminates, particularly in the face of turbulent weather.
Whether it be electric car motors, a wind power generator, or photovoltaic modules, constructing these components requires a combination of plastic, metal, and/or glass. As these surfaces are often exposed to extreme duress, scientists at the new Christian Doppler Laboratory "CDL-AgePol" (Johannes Kepler University Linz) aim to study these components under complex duress and in lieu of long-term durability.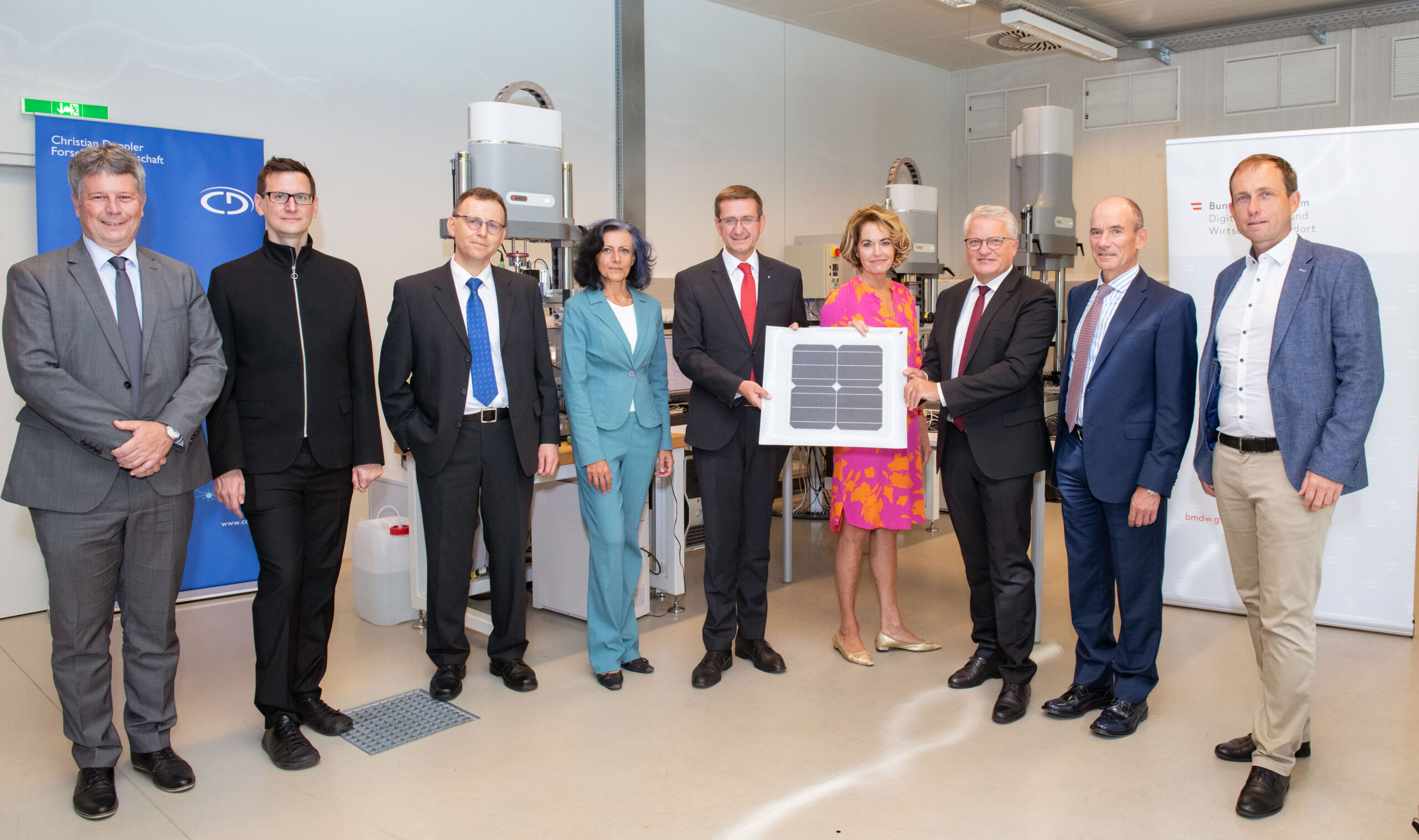 f.l.: Franz Androsch (Vice President of CDG), Christopher Lindinger (VR for Innovation and Research), Gernot Wallner (JKU Institute of Polymeric Materials and Testing), Alberta Bonanni (VR for Research, Gender and Diversity), Forschungs-Landesrat Markus Achleitner, Ulrike Unterer (Vice President of CDG), BGM Klaus Luger, Reinhold H. Dauskardt (Stanford University) und Thomas Staltner (Borealis)
Funded by the Austrian Federal Ministry for Digitization and Economic Development (BMDW), Christian Doppler Laboratories conduct high-profile, application-oriented base-knowledge research in collaboration with renowned scientists and innovative companies. Endowed with € 3.5 million in funding, the Christian Doppler Laboratory CDL-AgePol (Christian Doppler Laboratory for the Aging of Polymer Laminates under Mechanical and Environmental Stress) will operate until 2027.
Dr. Margarete Schramböck, Austrian Federal Minister for Digital and Economic Affairs, explained: "21st century technologies require durable and cost-effective products made out of plastic, steel, and glass. These materials are of key importance when it comes to state-of-the-art compounds, particularly in support of future technologies that include solar/wind power as well as zero-emission e-mobility. Research conducted at this particular CD lab will contribute greatly to this field and continue to strengthen Austria as a location of industry."
Lab director a.Prof. Gernot Wallner, Institute of Polymeric Materials and Testing at the JKU, added: "More specifically, we will explore the combination of mechanical stress with environmental influences and how this affects aging processes and adhesion on material interfaces. To this end, we aim to develop new testing and analysis methods at the CD Lab to apply and systematically establish relationships between materials, structure, and process parameter-performance."
Markus Achleitner, regional Minister for Economic Affairs and Research, reiterated: "As Austria's top industrial state, Upper Austria is a leading region for materials and plastics. At the same time, we are also striving to secure a pioneering role in the field of energy transition. Research at the new Christian Doppler Laboratory at the JKU will focus on analyzing ideal durability when plastic is combined with metal and/or glass. The findings, after all, will be key in support of technological advancement, especially when it comes to generating renewable energy and e-mobility. This is why leading Upper Austrian companies, such as the voestalpine and Borealis, are also actively involved. Once again, this emphasizes just how important application-oriented research is to support Upper Austria as a location of business and how much we benefit from rapidly transferring research findings to industrial and business applications."
JKU Rector Meinhard Lukas added, "It is hard to imagine our lives without plastics. When it comes to transitioning to a more sustainable and environmentally-friendly circular economy based on carbon and solar energy, they serve as a cornerstone. This particular CD lab fits right into this approach. Improved durability and the ability to predict a product's lifespan will ensure resource-efficient industrial manufacturing processes and products. The new lab will contribute significantly to transformative change."
Researchers at the CD Lab aim to focus on new methods at both the phase interface and a molecular level to analyze the aging processes of plastic, metal, and glass. The process is demanding as scientists work on a micrometer and nanometer scale however, this is crucial when it comes to a number of industrial processes and products. The companies involved are greatly interested and include industry giants such as the voestalpine (developers of steel/plastic laminates for e-mobility and wind power generators) and Borealis (customized plastic materials for photovoltaic modules). Both companies are actively involved at the CD Lab.
The research focus at the CDL-AgePol is particularly pertinent in a number of new fields of technology, including renewable energy and the mobility sector.
Franz Androsch, head of R&D and Innovation at voestalpine, believes, "When it comes to developing new materials and processes, application-oriented base-knowledge research is indispensable and required in order to complement corporate research. Prof. Wallner's Christian Doppler Laboratory will focus on exploring the potential of hybrid materials and how they behave – this will lead to advancements in developing steel-polymer laminates which are used, for example, in areas of e-mobility and wind turbines."
Erik van Praet, Vice-President of Innovation & Technology at Borealis, added: "Life demands progress. As part of our collaboration efforts at the JKU's CD Lab, we will acquire key insight into realizing a circular economy on a large industrial scale. This, in turn, will result in a variety of innovative products that will include longer-lasting photovoltaic modules, new energy storage systems for e-mobility, creating renewable energy sources, and more energy-efficient storage. These things will be more affordable, more available, and improved, thereby supporting advancements in a circular economy."
Renowned scientists and researchers at Christian Doppler Laboratories conduct high-profile, application-oriented base-knowledge research together with innovative companies. The Christian Doppler Research Association is internationally regarded as a best practice example to support this type of collaboration. Christian Doppler Laboratories are jointly funded by the public and participating companies. Public funding is provided mainly by the Austrian Federal Ministry for Digitization and Economic Development (BMDW).